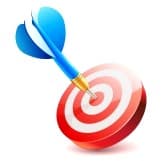 Does your business need some help to get to the next level? To be profitable? We can help. If your business is struggling or poised for growth you should consider hiring a marketing consultant. A consultant offers considerable advantages over both hiring a full time marketing director.
How does it work?
When you hire a consultant you retain his/her services on a monthly basis at an agreed amount of time. For instance you may want to hire a consultant for 20 hours per week for 6 months.
Your marketing consultant will work with you on an initial review of your business to determine why performance is suffering or what can be done to improve.
From there your marketing consultant will help you develop an overall marketing strategy to help in the troubled areas. Then your consultant will help you to implement the plan whether it be from designing and implementing a new advertising campaign, training of sales staff to helping you build strategic alliances and more.
How much does it cost?
How much you pay depends on how much help you need and how many hours you want to contract for. Our consultants charge around $65 an hour. So you can pay for 10 hours a week, 20 hours a week or more depending on your needs and budget.
Why not hire a marketing director?
There are many advantages to hiring a marketing consultant as opposed to a direct marketing employee. First of all our consultants are going to have more experience and knowledge in the industry than someone you hire directly. Second, you compensate our consultants on a 1099 basis, meaning you do not have to pay payroll taxes, unemployment taxes, workers comp, health benefits etc. In short you will save money and make more money.
https://smgnewengland.com/wp-content/uploads/2013/10/Spectrum_FaceBook_Profile-01-e1382023549664.png
531
532
Spectrum Marketing Group
https://smgnewengland.com/wp-content/uploads/2018/01/Spectrum_Logo_RGB.png
Spectrum Marketing Group
2011-05-07 02:05:21
2013-11-13 21:07:03
Marketing Consulting